Hands up if you love a good soup? I have to admit, I'm a sucker for a well-made soup as it can be so versatile and sometimes you just need a hot steaming bowl of goodness.
Soups are a great way to use up unwanted leftovers, to warm up on a 
chilly day
 and a clever way to enjoy your 7-a-day when you don't feel like having salads or raw vegetables. However, there's nothing more disappointing than a boring tasteless soup and I love making the most of flavours and spice combinations.
So check out a bunch of my favourite soup ideas to get your creative juices flowing this winter.

Courgette, pea and basil soup
A superb winter green soup that will leave your taste buds dancing. This combination of ingredients was born by a complete accident when wanting to use up fridge vegetables and herbs and supplementing with all that was in the house- frozen peas! 
This soup certainly ranks in my top 5 favourites, as it's unexpectedly light and goes incredibly well with any type of goats cheese topping (yum).
Winter broth with pearl barley
Another fantastic soup to help use up all the root veg you have no idea what to do about. Try out making one with carrot, onion and garlic, turnip, squash or pumpkin chunks, kale and add pre-cooked pearl barley grains. A nourishing and delicious broth is meant to be enjoyed chunky and hot. Garnish with parsley or other chopped fresh greens.
Beetroot is well-known for its abundance in antioxidants. So if you are in need of a little pick-me-up in the cooler months, you won't regret making a traditional borscht. Essentially a steaming beetroot soup, borscht comes from Russia and through years has gained popularity due to its simplicity and taste throughout Eastern Europe. Traditionally made by using up stock, adding potato cubes, grated beetroot and beetroot leaves, as well as fresh herbs.
If you're after a warming soup with a mild hot kick, look no further. "Spicy orange soups" is what I call my signature soup that varies every time (hence tricky to produce a recipe). The base is often made from orange root vegetables that I have available at the time, often consisting of sweet potato or regular potato, pumpkin or squash and carrot. Start with frying garlic, onion and a selected curry paste with oil, before you add the veg. I love adding either Thai red curry paste or Indian mild curry paste. Once the vegetables have softened, add coconut milk for extra creaminess and smooth texture. Use a hand blender to make the texture work and enjoy with fresh chopped coriander to finish. 

Celeriac and hazelnut soup
If you're looking for a delicious soup for a date night (with somebody or yourself) and want something a bit more special and different, consider making a cream of celeriac soup with crushed hazelnuts. Celeriac is a widely available root in the winter time and a cream soup can be made by cooking chopped pieces of celeriac and potato in stock and adding extras, such as cream or milk if extra thickness is required. You can simply add crushed roasted hazelnuts to top or use chives or parsley. I have seen versions of this soup that get topped with bacon lardons, truffle oil or roasted sage leaves in addition to roasted hazelnuts.
Chicken (or chickpea) noodle soup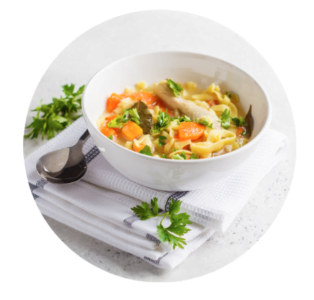 Nothing can beat chicken noodle soup when you're feeling a little under the weather. A real soup for nursing somebody, that is unwell has to be made from chicken stock, as it is high in collagen and can support swift healing. However, if you are vegetarian or vegan, replace the chicken with chickpeas and the stock with vegetable stock. Whichever you choose, make sure it's homemade so it contains more nutrients and ingredients that you know of. A great recipe to make in the crock pot.