"I don't know what to have for breakfast" is the dilemma that contributes towards so many busy people sticking to the same old cereal and milk for breakfast or missing it altogether. And that's not a great idea if you experience cravings, lack of energy or the 3 pm slump.
Remember what it's like to look forward to breakfast again with this breakfast inspiration for the cooler months ahead. Here are some of my favourite ideas and twists to breakfast classics and some of the new and trending recipes. Try them out and pick your own favourites for the busy weekdays and for more relaxed weekend brunches.

Autumnal porridge (oatmeal)
To me, autumn isn't complete without a steaming bowl of oatmeal. It's also a fantastic time to experiment with more exciting additions, such as adding some grated pumpkin and cinnamon or gingerbread spice while cooking. Try adding full fat coconut milk for extra creaminess or plum and apple compote with a sprinkle of dark chocolate. I love to top the hot porridge with frozen berries, once they are out of season and it creates a lovely blend of flavours and temperatures. 
Carrot, thyme and feta muffins
If you're after a quick and easy recipe that you can have at the last minute when you are short of time, then carrot, thyme and feta muffins are for you. This is one of the recipes you can find in the 
"21 snacks to curb sugar cravings"
. Batch, cook and pop a few of these in the freezer and they are easily defrosted by simply toasted them in the morning. Cut the muffins in half and spread some almond or cashew butter, avocado or simply some delicious butter.

If you're more of an egg-for-breakfast kind of person, this will be a nice treat for you. Huevos rancheros, or ranchers eggs, is a Mexican favourite of mine. It consists of a tomato sauce with garlic, onion and chilli with a couple of fried eggs on top. I add mixed beans in the tomato sauce and to finish sprinkle some hard goat cheese. Add avocado for a true Mexican inspiration. Great to serve for a weekend brunch or when friends come to visit. 
When it's cool outside, there's a big temptation to lounge about with a cup of tea and watch the tree leaves turning, or is it just me? Pancakes can be a perfect way to prolong the weekend stillness and keep you going with sustained energy for the rest of the day. There are at least a million of delicious pancake recipes on the net, but look for inspiration with alternative flour ideas, such as buckwheat or almond flour for slow release energy that do not crash your blood sugar half hour after eating. Top up with delicious autumnal maple syrup, berry compote and crushed nuts. 
Although baked oatmeal is relatively a newbie in the food blogging world, it has become a quick favourite due to its ease and simplicity. Similar to a traditional flapjack or breakfast bars, baked oatmeal can be cooked until it's quite soft or until it's harder, like a granola bar. Equally, it can be eaten hot or cold, with additions, such as coconut or natural yoghurt,  or completely on its own. Hundreds of recipes exist of baked oatmeal ideas and my favourites include berries, such as blueberries, raspberries or blackberries for extra moisture or cinnamon, apple and pecans for warming taste.
Courgette and feta oven omelette
Similar to any savoury or sweet oven bake, the courgette and feta oven omelette helps save time, it's easy to make and absolutely delicious to have as leftovers. Packed with quality protein to set you up for the day, this bake is also an excellent way to include as many of your 7-a-day vegetables as possible, without much effort. Double up on courgettes, add spinach, green peas, kale and even broccoli for some extra greens and extra energy.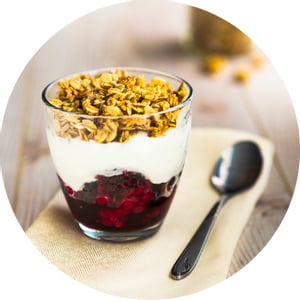 Another excellent option when you're stuck for quick and easy breakfast ideas on the go is a homemade granola pot. Couldn't be easier to make, as you simply layer your ingredients- add berry or apple compote as a bottom layer, generously scoop coconut yoghurt or natural yoghurt as the biggest, middle layer and top with granola. If you can, make your granola yourself with delicious warming spices, nuts and seeds or if you're short of time, get a premade version, lower in sugar. You can pre-make the pots the night before, but add the granola layer in the morning or just before eating, in order to preserve the crunch. 
---
If you struggle with overeating, emotional eating and binging and are finally ready to leave that in 2020, you may want to know that Food Peace Hub will be opening its doors for the last time in 2020. 
Food Peace Hub is the ultimate online hub & community to end food obsession and discover food freedom for good, want to join us? Why wait till January, when you can start this year and hi-five yourself for it? Go to Food Peace Hub Waitlist to be the first to know when doors reopen. Can't wait to see you inside!